Soy sauce is a delicious condiment that can add flavor to any dish, but you don't want to use bad soy sauce and ruin your meal.
It's hard to know if soy sauce has gone bad or not. Some bottles don't even have expiration dates on them and the taste can vary depending on how old it is.
Use this guide to learn how to tell if soy sauce has gone bad. We'll show you how to test for spoilage, signs of mold, and more. Plus, we'll give you preservation tips for storing soy sauce so it lasts longer.
Does Soy Sauce Go Bad?
Soy sauce is fermented; therefore, unless it is stored incorrectly, it does not go bad. Soy sauce will probably last a lifetime if you don't open it. If kept in a cold, dry environment at room temperature after being opened such as pantry soy sauce, the flavor will last for six months at its best, but if you freeze soy sauce, it can last for two to three years.
This post contains a lot to learn about soy sauce, a condiment popular throughout the world and in most East Asian and Southeast Asian nations.
Continue reading to learn more about soy sauce and the best ways to store it for the best flavor and near indefinite shelf life.
What Are the Signs That Soy Sauce Has Gone Bad?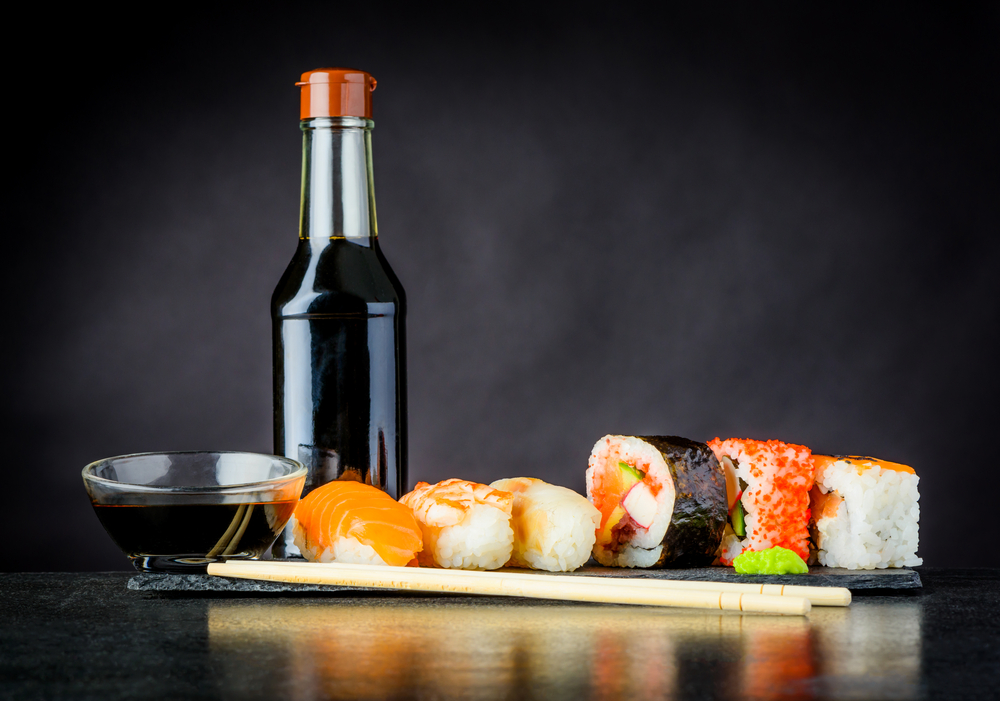 Examining and sniffing your soy sauce can allow you to determine whether it is bad or not. Does it smell bad or off, and are there signs of any mold growth? Can you tell whether its texture has changed?
If "yes," the situation is probably not good. However, you can taste it to make sure it's still good if it looks okay and smells fine. You want to look for changes in texture, taste, color, and smell.
Smell
Even though soy sauce has a strong aroma naturally, if you open plastic bottles of the sauce and are faced with an overwhelming fragrance, it's time to throw them away.
Taste
A rule of thumb for good soy sauce is that it tastes salty.
It is always wiser to err on the side of caution if the flavor has become slightly bitter or if you are unsure of whether it is still edible or not. If you're certain it wasn't stored under ideal circumstances, throw it away.
But don't worry about the hue shift because it doesn't necessarily signify something is terrible. Because of the oxidation process, soy sauce's color or taste is normal to vary over time.
Texture
Consider texture. The texture of soy sauce is somewhat thick. It should be thrown away if it is starting to assume a watery texture.
Color and Appearance
It is difficult to spot any deterioration in soy sauce because of its dark color. It is not necessarily spoilt if the color changes. It is merely the end product of oxidation.
However, the sauce is significantly deteriorated and might result in foodborne illnesses when you can clearly see mold and other impurities in it. You must immediately throw it away.
How To Store Soy Sauce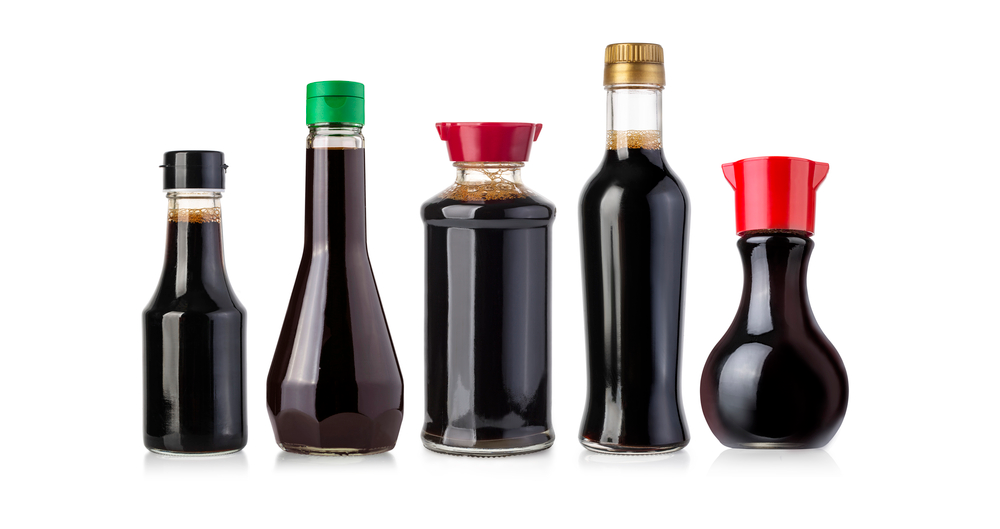 Understanding how to keep soy sauce is taking the first step to prolonging your sauce's shelf life. So let's now explore how long soy sauce lasts after opening after reviewing the warning signals of deterioration.
Unopened soy sauce bottles should not be placed on window sills as exposure to direct sunlight is not recommended. Instead, they should be kept in a cold, dry place, a kitchen cabinet, or a dry spot in the pantry.
You can keep it in the pantry or another cool, dark spot if you want it to be usable for a long time. However, storing it in the refrigerator is the best option if you want to use it for longer.
You can use a bottle of soy sauce after it has been opened and stored at room temperature for six months. Additionally, when refrigerated, it can keep for a very long period. For example, it would last two or even three years if properly preserved in a refrigerator.
Essentially, the telltale indicators that soy sauce has gone bad are mold, particles floating around on the sauce, and an unpleasant smell.
Does Soy Sauce Ever Expire?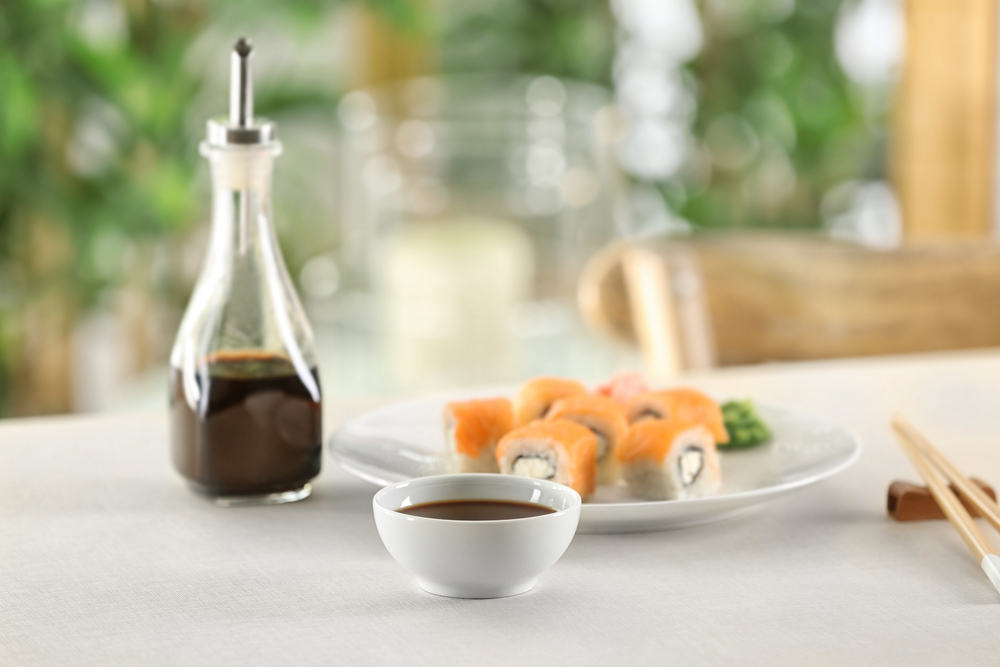 Soy sauce does not technically expire, but it does go bad over time.
Soy sauce is a fermented condiment that usually has a long shelf life. Instead of a use-by date, they have a best-before date. Rarely can bacteria grow in it because of the high sodium concentration. It, therefore, has an endless shelf life if stored properly.
Even after the suggested date, you can still consume it safely if stored properly. Therefore, if it is you refrigerate it, you can use it for years. Unopened bottles of soy sauce can be kept in a cold, dry environment indefinitely.
Its peak flavor will start to fade after roughly three months.
Soy sauce is made in a method that makes it immune to going bad in addition to its high salt content. The fermentation procedure, which spans several months, is a crucial step. Brewing, pasteurization, and stabilization are additional processes.
When Should Soy Sauce Be Discarded?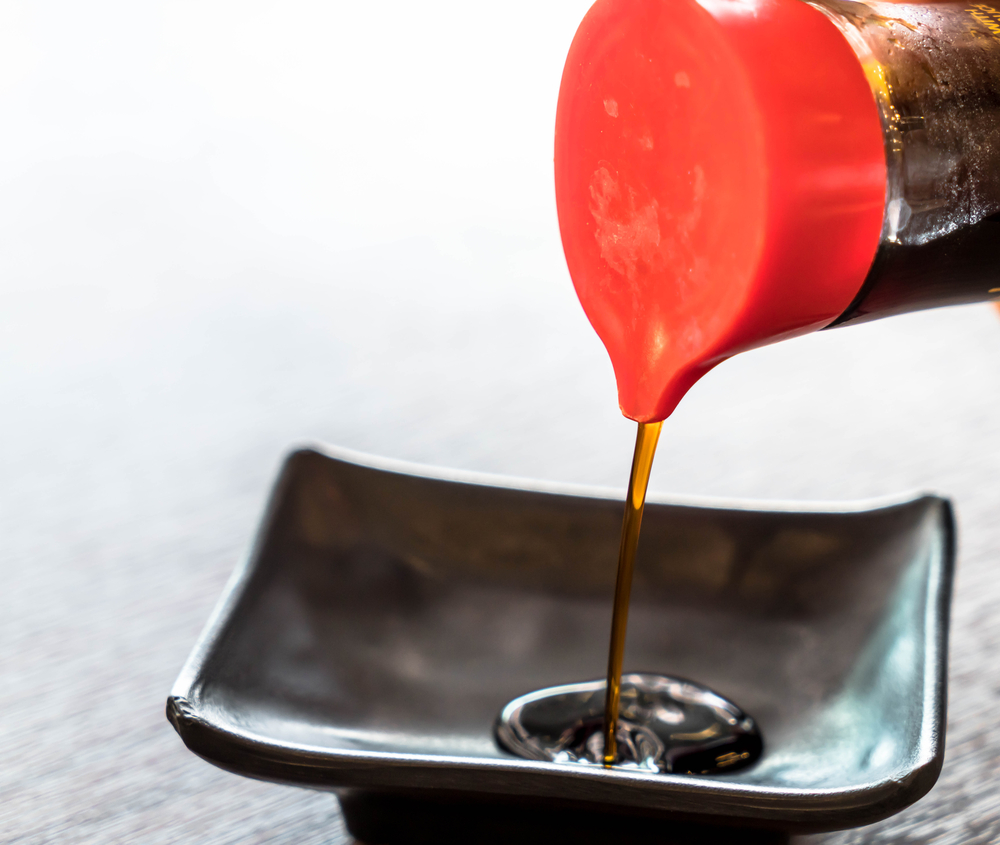 If your soy sauce starts to mildew, gets watery, smells bad, or has stuff floating in it, you should toss it out. So if your soy sauce bottle has not yet begun to show these signs, it is acceptable to consume; but, after using it for a while, the flavor will inevitably deteriorate, and you may want to replace it.
Many people will tell you they have been using the same soy sauce bottle for five to ten years. However, you probably already know that's kind of excessive.
Ideally, you should replace fresh soy sauce after being used for no more than two or three years when stored properly. Although it's also safe to eat, you should utilize soy sauce within six months for the best quality.
Correct storage is the secret to getting the most out of your soy sauce. To keep the quality largely the same the following time you use it, make sure to keep it tightly sealed after each use.
Once Opened, Should You Refrigerate Soy Sauce?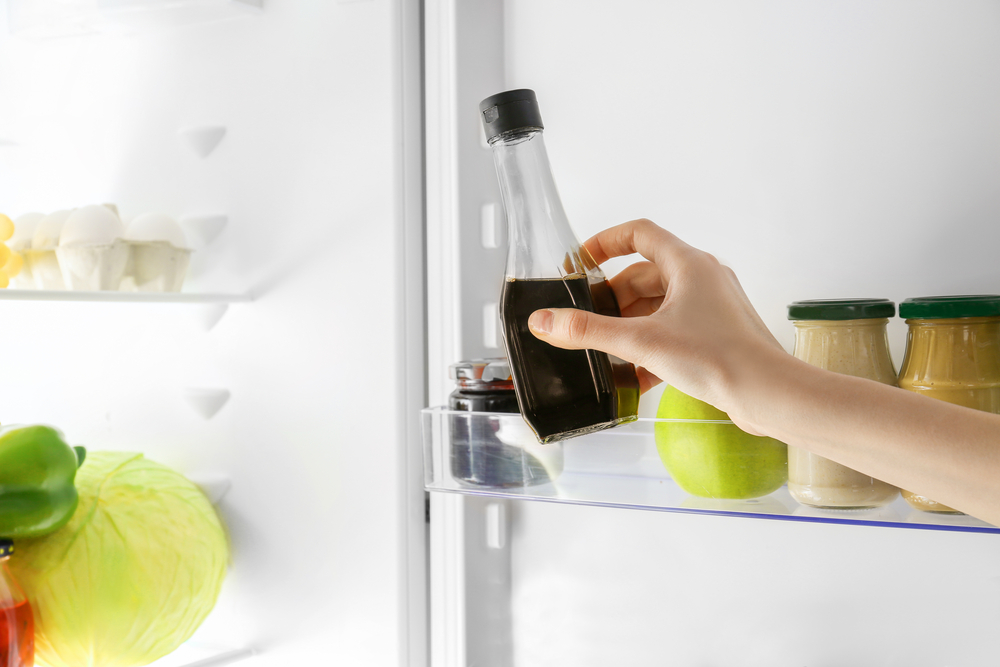 After opening, soy sauce does not require refrigeration. However, it considerably lengthens the shelf life and aids in flavor retention. Therefore, it is more so based on individual preferences. It's not like keeping things refrigerated will make it worse.
According to the Kikkoman website, soy sauce won't go bad before its expiration provided that you don't mix it with water or anything else.
Soy sauce can be kept in good condition for up to three years in the refrigerator and up to six months without one.
Does Soy Sauce Made Without Wheat Have a Longer Shelf Life?
The shelf life of gluten-free soy sauce is not the same as that of ordinary soy sauce. However, there isn't much of a difference in how long they last. When refrigerated, both would keep for roughly two to three years.
However, when both soy sauces are opened, standard soy sauce lasts roughly three months longer than tamari sauce, i.e. soy sauce that has no wheat components.
The result of fermenting soybeans is tamari, just like conventional soy sauce. But in the former, there is no wheat. Given that there is no wheat in it, it uses twice as many soybeans.
As a result, it tastes rich and flavorful, as opposed to normal soy sauce, which is often saltier, lighter, and thinner.
Regular soy sauce contains a lot of wheat starches, which is one of the main reasons it lasts longer than soy sauce without wheat (tamari). But both varieties of sauce frequently contain soybeans.
As it is, the taste of soy sauce varies based on where you are eating it.
It is thicker, like syrup, and less salty in Japan. Japanese speakers refer to soy sauce without wheat as tamari. It is a miso paste by-product and a very well-liked condiment in Asian cooking. It goes without saying that many Asian cuisines use it.
For those who like soy sauce without gluten, Tamari is perfect. However, when consuming soybeans, some people occasionally have symptoms of food poisoning. This is due to the amines found in soybeans.
Dark soy sauce (Kikuchi) and light soy sauce are the two varieties of soy sauce available in Japan (Usukuchi).
The Japanese soy sauce Koikuchi is most popular in Japan, while the Chinese prefer the light version of soy sauce. The preferred dipping sauce is Usukuchi. Mirin, sugar, sake, and soy sauce are all ingredients in teriyaki sauce.
Can Soy Sauce That Has Gone Bad Make You Sick?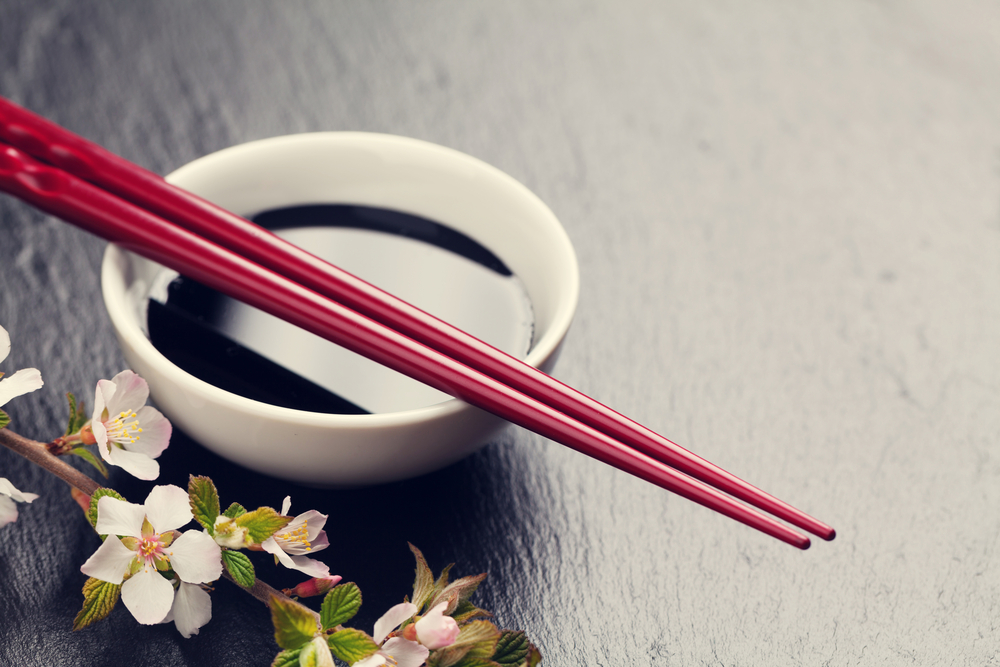 Since commercial soy sauce typically carries a best-before date instead of an expiration date, if you store the soy sauce properly, you can continue to consume it long after the date has passed. The date mentioned on the product just serves as a recommendation as to how long the soy sauce will retain its quality.
As long as chemically processed soy sauces are not tainted, they won't make you sick, but the flavor might be overpowering. The sauce should be kept in the refrigerator as we've discussed above so that the flavor remains intact.
Final Thoughts
In the post, we discussed how to determine if you are using expired soy sauce and whether it is bad.
Key takeaways to leave this post with include:
Look out for altered taste, smell, texture, and color.
Storing soy sauce in a refrigerator will help maintain optimal quality.
If left unopened, soy sauce shelf life can be extended almost indefinitely.
At the end of the day, soy sauce is a condiment that will last for an extended period of time as long as it's properly stored. However, if you're questioning whether or not your soy sauce has gone bad, there are some telltale signs to look out for. If you see any mold forming on the surface, strange colors or smells coming from the bottle, or it's been more than two years since you opened it, it might be best to discard it and buy a new bottle.
We hope this post cleared up any confusion about the shelf life of soy sauce. Happy cooking!